Choose from the Categories on the Left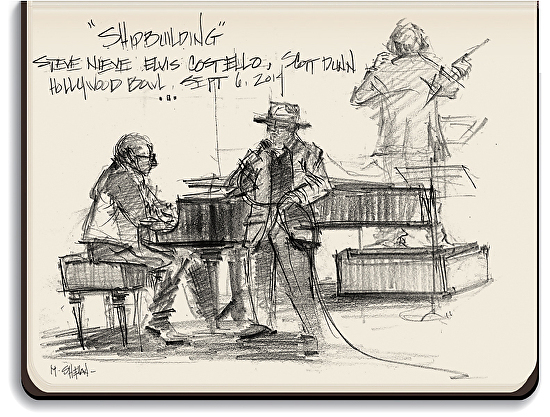 Sketchcrawl at Fullerton College tonight! Details below.
Dates for workshops at UCR Extension in the Spring have been finalized. I'll add links to the registration page in the workshops section when they are up:
Visual Diary
This will be interesting. It will explore the intersection between journalism and visual art. I have a lot of ideas based on my sketch reportage work.
Tue. 6-9 pm, Jan. 13-Feb. 24 (7 meetings)
Wed. 6-9 pm, Jan. 14-Feb. 25 (7 meetings)
New article on the Blackwing602 site titled "Sketch reporting with Off-Ramp's Mike Sheehan" is here:
http://blackwing602.com/sketch-reporting-with-off-ramps-mike-sheehan/
Some misquotes but a lot of good stuff.
Fullerton College is having a Sketchcrawl on Thursday October 30! Grab a sketchbook and go. I'll be there. Info here:
http://thebigdrawla.org/fullerton-college-sketchcrawl

Latest sketches for KPCC's Off-Ramp titled "Sketchbook: Elvis Costello at the Hollywood Bowl" is up. Full article and all the sketches here: http://www.scpr.org/programs/offramp/2014/09/11/39301/sketchbook-elvis-costello-at-the-hollywood-bowl/

I have a workshop scheduled in San Pedro, California for November 2nd at Angels Gate Cultural Center. This will be a four day intensive "Illustrating for Kids" class. This will cover children's books as well as anything related to the kids market. This is going to be all traditional media and I'm really looking forward to it.
It can also benefit illustrators in general as well as concept or character designers.
I'm really excited about this location. It's on the bluffs overlooking the ocean, has outdoor tables under the trees and great rooms. It's a seriously great spot. Contact me for registration info.
I just finished a three day fast sketch workshop at the Riverside Art Museum. Thanks to Caryn Marsella for making it easy. They have great facilities and it's right in downtown Riverside, a perfect sketch area. Here is their link:
http://www.riversideartmuseum.org/education/adult/
Urban Sketchers just posted a story about my sketch reportage work. This is another one of my favorite sites:
http://www.urbansketchers.org/2014/07/sketch-artist-mike-sheehan-brings-new.html

James Gurney's blog post about my sketch reportage for KPCC on Gurney Journey. One of my favorite blogs.
http://gurneyjourney.blogspot.com/2014/07/radio-sketch-artist.html
I'll be on Off-Ramp this weekend. 89.3 KPCC (radio). It airs Saturday at noon and Sunday at 6 pm PDT. It'll also be available on the podcast. The interview is about sketch reportage.
My interview alone is here: http://www.scpr.org/programs/offramp/2014/07/11/38332/off-ramp-the-only-radio-show-with-a-sketch-artist/
Dates for workshops at UCR Extension in the fall have been finalized. I've added links to the registration page in the workshops section and below: