Choose from the Categories on the Left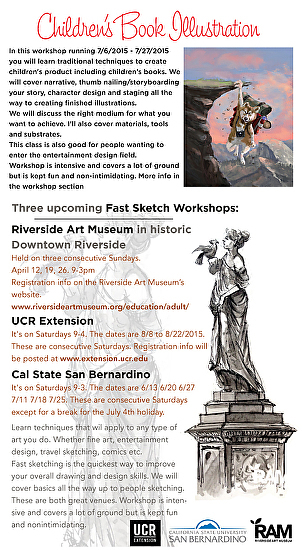 Latest piece for Off-Ramp on KPCC "Sketch artist Mike Sheehan discovers a magical place in the San Bernardino mountains" is up here:
http://www.scpr.org/programs/offramp/2015/02/23/41635/sketch-artist-mike-sheehan-discovers-the-pillars-o/

I'm doing a fast sketch workshop at the Riverside Art Museum on three consecutive Sunday's. Apri 12th, 19th and 26th. This is my favorite location for this class. It's in historic Downtown Riverside. Register here:
https://riversideartmuseum.wufoo.com/forms/kwdd0ne16n5ntz/
I'm also doing a fast sketch workshop at Cal State San Bernardino in June. It's on Saturdays 9-3. The dates are 6/13 6/20 6/27 7/11 7/18 7/25. These are consecutive Saturdays except for a break for the July 4th holiday.
Just booked a children's book illustration workshop at UCR Extension. Info is in the workshop section.
I'll be teaching a cartooning class at Fullerton College in Fullerton Ca in the fall. Should be fun!
Just found out I'm included in the book "Walt Disney Imagineering: A Behind the Dreams Look at Making More Magic Real". The first edition has always been an inspiration bible to me.
I'll be teaching "Sketching for animators and illustrators" at Fullerton College in Spring. I'm really looking forward to it. Fullerton is my favorite school for a lot of reasons. One of them being they have a really great program with really great instructors.
Latest Sketches for KPCC's Off-Ramp "Sketchbook: The GOP victory party in OC "like a high school dance" is here:
http://www.scpr.org/blogs/offramp/2014/11/07/17533/sketchbook-the-gop-victory-party-in-oc-like-a-high/
Dates for workshops at UCR Extension in the Spring have been finalized. I've added links to UCR's registration page below and in the workshops section:
New article on the Blackwing602 site titled "Sketch reporting with Off-Ramp's Mike Sheehan" is here:
http://blackwing602.com/sketch-reporting-with-off-ramps-mike-sheehan/
Some misquotes but a lot of good stuff.
Urban Sketchers just posted a story about my sketch reportage work. This is another one of my favorite sites:
http://www.urbansketchers.org/2014/07/sketch-artist-mike-sheehan-brings-new.html

James Gurney's blog post about my sketch reportage for KPCC on Gurney Journey. One of my favorite blogs.
http://gurneyjourney.blogspot.com/2014/07/radio-sketch-artist.html
I'll be on Off-Ramp this weekend. 89.3 KPCC (radio). It airs Saturday at noon and Sunday at 6 pm PDT. It'll also be available on the podcast. The interview is about sketch reportage.
My interview alone is here: http://www.scpr.org/programs/offramp/2014/07/11/38332/off-ramp-the-only-radio-show-with-a-sketch-artist/