Choose from the Categories on the Left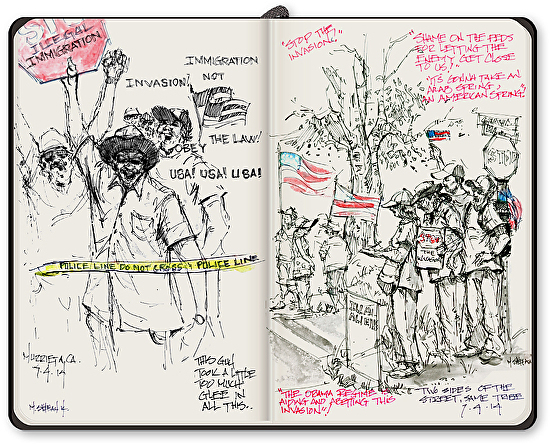 Urban Sketchers just posted a story about my sketch reportage work. This is another one of my favorite sites:
http://www.urbansketchers.org/2014/07/sketch-artist-mike-sheehan-brings-new.html

James Gurney's blog post about my sketch reportage for KPCC on Gurney Journey. One of my favorite blogs.
http://gurneyjourney.blogspot.com/2014/07/radio-sketch-artist.html
I'll be on Off-Ramp this weekend. 89.3 KPCC (radio). It airs Saturday at noon and Sunday at 6 pm PDT. It'll also be available on the podcast. The interview is about sketch reportage.
My interview alone is here: http://www.scpr.org/programs/offramp/2014/07/11/38332/off-ramp-the-only-radio-show-with-a-sketch-artist/
Latest sketches for KPCC's Off-Ramp titled "Immigration News: Sketches of Murrieta and the undocumented migrant debate" is up. Full article and all the sketches here: http://www.scpr.org/blogs/offramp/2014/07/07/16969/immigration-news-sketches-of-murrieta-and-the-undo/
Dates for workshops at UCR Extension in the fall have been finalized. I've added links to the registration page in the workshops section and below:
From LA Opera's Facebook page:
https://www.facebook.com/photo.php?fbid=10151432729437638&set=pb.52436762637.-2207520000.1367963854.&type=3&theater
https://www.facebook.com/photo.php?fbid=10151435224022638&set=pb.52436762637.-2207520000.1368385896.&type=3&theater